Upsets Highlight First Days of Tourney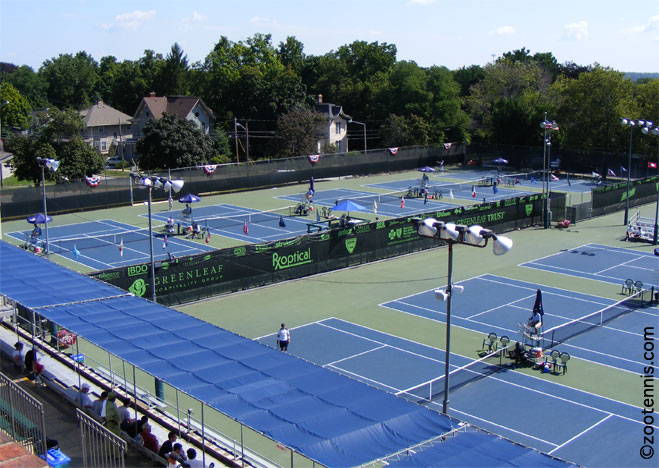 KALAMAZOO, Mich. – Doubles upsets have highlighted the first several days at the 2016 USTA Boys' 18 and 16 National Championships hosted by Kalamazoo College and Western Michigan University.
In the 18 doubles draw, top seeds Michael Mmoh (Brandenton, Fla.) and Nathan Ponwith (Scottsdale, Ariz.) fell to unseeded Connor Hance (Torrance, Calif.) and Mac Kiger (Katonah, N.Y.) 7-6(5), 6-3 in the second round on Friday. Fifth-seeded Richard Ciamarra (Southington, Conn.) and Peter Conklin (Fairfield, Conn.) also did not survive through the first day of the tournament, falling to unseeded Nate Eazor (Dallas, Texas) and Chase Wood (Dallas, Texas) 6-2, 6-4.
In 16 doubles, top-seeded Brandon Nakashima (San Diego, Calif.) and Jake Sands (Pacific Palisades, Calif.) lost to unseeded Zachary Elliott (Willowbrook, Ill) and Dannilo Kovacevic (Park Ridge, Ill.) 0-6, 6-4, 1-0(10) in the second round. No. 7 Keenan Mayo (Roseville, Calif.) and Govind Nanda (Cerritos, Calif.) lost in the third round to unseeded Jonathan Mascagni (Alpharetta, Ga.) and Tyler Stice (Atlanta, Ga.) 6-4, 7-5.
Second-seeded Vasil Kirkov (Tampa, Fla.) and Sebastian Korda (Bradenton, Fla.) won their second round match, but did not survive to the fourth round as Matthew Gamble (Webster, N.Y.) and Sam Turchetta (Pound Ridge, N.Y.) edged out a three-set win 3-6, 7-5, 1-0(8). Seven of the 16 teams in the fourth round in 18 doubles, which is scheduled to begin play at 3 p.m. tomorrow (Tuesday) are unseeded.
In 18 singles, 15 of the top 16 seeds advanced to the fourth round. No. 15 William Genesen (Tulsa, Okla.) fell to unseeded Jason Legall (Palm Coast, Fla.) 6-3, 6-3.
In 16 singles, fourth-seeded Kevin Zhu (Pearland, Texas) was the highest seed to fall in the first three rounds, falling to unseeded Ian Sturgill (Madison Heights, Va.). No. 8 Adam Neff (Bradenton, Fla.), No. 11 Jake Sands (Pacific Palisades, Calif.), and No. 14 Bradley Frye (Overland Park, Kan.) also lost main draw matches prior to the fourth round.
Day five's schedule includes fourth round singles and doubles competition for boys 16 and 18 beginning at 9 a.m. at Stowe Stadium as well as round of 16 doubles matches in both divisions. One of the more anticipated matchups in 18 singles features the last two winners of Boys' 16 Championships – No. 2 John McNally (Cincinnati, Ohio) vs. No. 30 Patrick Kypson (Greensboro, N.C.).
Sources: Mitch Blankespoor & Photo by ZooTennis