Blanch Captures 16s Championship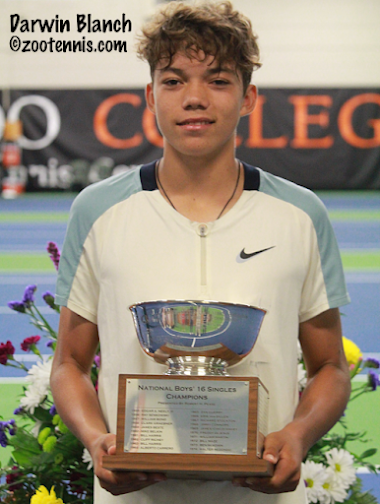 Fourteen-Year-Old Blanch Captures Kalamazoo 16s Championship; Tien Defeats Top Seed Damm, Quinn Eliminates Local Favorite Baris to Reach Rare Monday 18s Final
©Colette Lewis 2022--
Kalamazoo MI--
Day 10 - Sunday, August 14
Persistent drizzle allowed only four games to be completed outdoors Sunday in the USTA B16s National Championship final, but the fans who made the short walk from Kalamazoo College's Stowe Stadium to the Markin Tennis Center were treated to a excellent contest, with Darwin Blanch defeating Calvin Baierl 6-2, 3-6, 6-4 to put his name on the list the tournament's 79 years of champions.
No. 5 seed Blanch led 3-1 deuce when the drizzle intensified and the decision was made to move the final indoors. Baierl, who looked nervous throughout the first five games at Stowe, lost six points in a row to start the indoor portion of the match, but managed to find his form to hold for 2-5. Blanch finished off the set, but Baierl settled down, got his first break of the match in the second game and held the rest of the way to earn the split.
"I started out really tight, lost the first set pretty easily," said Baierl, a 15-year-old from Naples Florida, who, like Blanch was playing Kalamazoo for the first time. "I found it in the second set, and I was playing a lot better; the delay helped me, and I felt more comfortable inside."
After the ten-minute break between the second and third sets that is mandated by USTA rules, Baierl continued to play well, breaking Blanch at love in the fifth game and holding for a 4-2 lead.
But Blanch recognized the urgency of the situation, holding and love and then breaking Baierl at love to pull even.
"He was playing really, really good tennis," said Blanch, who turns 15 next month. "And I was getting a little mad, because I couldn't really find any uncomfortable zone for him. But then I came out in the 4-2 game with a lot of energy, and after that I had all my rhythm. I started to play a lot better and he started missing more."
The capacity crowd on the Markin Center bleachers and sitting on the unoccupied court adjacent to the match supported Baierl's comeback, and they had another chance to get involved when he went down 0-40 serving at 4-5. He saved the first two championship points, but found the net on the third, with Blanch dropping his racquet and raising his arms in celebration.
Blanch appreciated having a large crowd applauding the many winners both he and Baierl hit throughout the final two sets.
"I love it when I'm playing a match and it's full of people," said Blanch, who is the fourth consecutive left-hander to win the Kalamazoo 16s title. "I absolutely love the atmosphere, all the support. I love it, and I play a lot better too."
Blanch, who trains at Juan Carlos Ferrero Academy in Spain, is headed back there tonight, but he'll be returning to the United States in a few weeks for the US Open Junior tournament.
"It feels unbelievable," said Blanch, who had his eye on that prize since accepting a wild card into Kalamazoo. "It's a really big accomplishment and I'm happy to be playing US Open. I'm really looking forward to it."
Both the 18s finalists will be in New York too, with Learner Tien and Ethan Quinn deciding who will get the men's qualifying wild card and who will get the men's main draw wild card, after the drizzle that had forced the 16s indoors finally ended and allowed the semifinals to begin outdoors at 3 p.m.
"I still have one more match to go," said Tien, who upset top seed Martin Damm 7-5, 6-0. "It's great knowing I'm going to go to New York, but you're always trying to get that main draw."
If Tien had any doubt that he could beat Damm, the 2018 Kalamazoo 16s champion, it would have surfaced when he failed to serve out the first set up 5-4, 40-0. But the always imperturbable 16-year-old got the gift he needed in the next game, when Damm double faulted at 40-30.
"I thought he might be relieved that he'd saved triple set point and that he'd let his guard down a little bit," said the left-hander from Irvine California. "He gave me that double fault and he missed two first serves in a row, so I had two pretty good looks, and I knew I had to make him play."
Damm chose to come in on both second serves, and both times Tien put the returns right at Damm's feet, forcing him to net the volleys.
Given a second chance to serve for the set, Tien earned a 40-15 lead and hit a forehand winner on his fourth chance, but first of the game, to pocket the opening set.
Damm double faulted to lose his serve in the opening game of the second set, and the errors kept piling up as Tien kept himself in every rally.
"I wasn't quite sure what had changed," Tien said of Damm's lack of intensity in the second set. "But I didn't think too much of it; I still had a long way to go, so I just kept playing, took care of my side of the court."
Damm eventually did show some emotion, after the match was over, smashing his racquet in frustration.
Last year at this time, Tien was playing the 16s division, where he won the consolation tournament. Now 35 in the ITF World Junior rankings and a Wimbledon quarterfinalist last month, Tien has made great strides in the past eight months.
"I realized that I had so much more in me," Tien said. "I wasn't reaching as far as I could because, for whatever reason, I wasn't taking tennis super seriously. Early this year, I started working much harder, putting more time and effort into things that would make me better and it really paid off."
While Tien and Damm were playing a subdued match on Court 2, the semifinal between No. 11 seed Ozan Baris and No. 2 seed Ethan Quinn was anything but.
Baris, who is from Okemos Michigan, just outside of East Lansing, had loud and enthusiastic support from Spartan fans who had made the hour-plus drive, including regular chants of "Go Green, Go White."
Quinn needed only two breaks to secure a 6-3, 6-4 victory, but Baris, a incoming freshman at Michigan State, made him work for every point.
"He played really well," said Quinn, who has yet to drop a set and won the doubles title with Nicholas Godsick Saturday. "He was serving very well and it was tough for me to read. He was moving really, really well, got a ton of balls back that I wasn't expecting him to get back and he put a lot of pressure on me, especially in the games when I served for the set and the match. He forced me to win the match, rather than him losing it."
Quinn saved break points in both games, and the interaction was particularly heated when he fell behind 15-30 serving at 5-4 in the second. The chief umpire issued a request that the crowd shorten their chants and cheers, and Quinn did his best to use that as motivation.
"Once it got to that pressure moment, they went a little bit longer than they were in the beginning, so it was kind of starting to get in my head a little bit," said Quinn, who has witnessed, but not competed in that atmosphere as a redshirt freshman last season at the University of Georgia. "But I stared down the one guy who was the leader of the pack, and they kind of quieted down on my match point, giving me time for my thoughts on what I wanted to do. But it was fun to play against, honestly."
Quinn and Tien met in the semifinals of the Grade 1 in San Diego in March, with Tien, the eventual champion, taking a 6-4, 6-2 decision, but this time the match will be the best of five sets, to prepare the winner for the US Open.
"I know Learner's had a few three-setters earlier this week, so I think I'll have to use that to my advantage, although he didn't go too deep in doubles, so that balances out almost," said the 18-year-old from Fresno California. "Me being already in college, might be more physical, so I might want to make the match as long as possible. I'm looking forward to three out of five, getting used to the future for me."
The final is scheduled for 10 a.m. at Stowe Stadium, with live streaming available here. The weather is expected to be good.
In the two other matches played today, both played indoors, Mitchell Lee won the bronze ball in the B16s singles, defeating Saahith Jayaraman 6-1, 6-3. Aidan Kim avenged his loss to Michael Zheng in the main draw, beating him 6-3, 6-1 in the B18s consolation final to take fifth place.
Sebastian Sec won the Wes Richards Feed-In Sportsmanship trophy earlier in the week, while Blanch was the recipient of the Bobby Kaplan Sportsmanship award for the 16s Division.
Source: Colette Lewis (Zoo Tennis)