Razeghi Captures 16 Singles Title in Nationals Debut..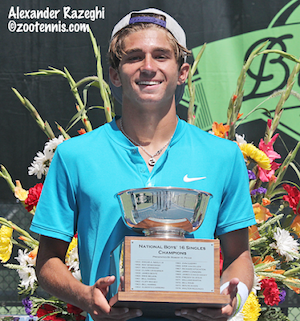 While Zachary Svajda won the 18s in his Kalamazoo debut in 2019, 16s champion Razeghi started a streak of his own this week in his first trip to Kalamazoo's Stowe Stadium, and an impressive debut it was. No. 1 16s seed Alexander Razeghi had beaten No. 4 seed Lucas Brown in the day's first final at Stowe Stadium.
The 15-year-old Texan was so focused that Brown could not gain a foothold at any stage in the match, trailing from the outset as Razeghi displayed flawless tennis and very few nerves considering the glare of the spotlight of a Kalamazoo final. As calm as he looked and as precise as his tennis was, Razeghi admitted to some tossing and turning Saturday night.
"I could barely sleep at night, thinking about what I wanted to do today," said the left-hander from Humble, which is in the Houston area. "The first game, I was a little nervous, but after I got settled and relaxed, I started to go with it."
Razeghi did not face a break point or even a deuce on his serve during the match, while he was constantly applying pressure on Brown's serve. Although there was only one break in the first set, in the second game, Razeghi wasn't challenged until serving for the set at 5-3. At 40-30 he crushed a forehand winner for the set, and when he broke Brown in the first game of the second set after two deuces, Razeghi resumed his dominant mode.
Razeghi plays briskly, and with ballrunners on the court for the first time this year on Sunday, the pace of play was even more accelerated, with Brown struggling to manage it.
"It wasn't so much that I was nervous, but the speed of the match was way more than I was used to," said Brown, a 16-year-old from Plano Texas. "He plays very quickly, the ballkids were grabbing the balls, and I'm someone that does my own cheering most of the time, so to have a crowd cheering after every point, it was difficult for me to get the vamoses going, because they were doing it for me."
Razeghi agreed that the match was played at his pace.
"That's my type of game," said Razeghi, who trains with Jon Glover at the USTA campus in Lake Nona, while traveling with coach Courtney Scott. "I was probably too fast for some of the ballpeople, but I just like playing really fast. Sometimes I can get in a rushing stage, which is not really good, so I've got to keep it in between."
Brown tried to change the pace, but with Razeghi not donating any points he found that an uphill climb.
"He made very few unforced errors, hit very good passing shots," said Brown, who won the doubles title Saturday with Nicholas Godsick. "When I tried to lay back and make him force the issue, he did. The points I won I had to play very, very, very good tennis. The only easy points I won were big first serves. He was just doing a great job tolerating everything."
Although Razeghi prides himself on not giving away points with errors, he does have a weapon in his buggy-whip forehand, reminiscent of Rafael Nadal's.
"My dad tries to model it like Nadal for sure," said Razeghi, who did not drop a set in his seven matches. "He's obviously a big inspiration for my game, so it's awesome to hear comparisons like that."
Razeghi may even run into his hero next month in New York, now that he's assured himself of a main draw wild card in the US Open Junior Championships.
"It's been a dream of mine to compete in a tournament like that and I can't wait to get out there," said Razeghi, who is the third consecutive left-hander to win the Kalamazoo 16s title, following Martin Damm in 2018 and Alexander Bernard in 2019.
Source: Colette Lewis (Zoo Tennis)