Past Winner Svajda Joins Short List of Two-Time Kalamazoo 18s Champions with Win Over Shelton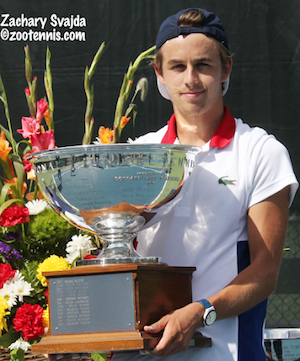 Svajda Joins Short List of Two-Time Kalamazoo 18s Champions with Win Over Shelton.
The No. 1 seeds validated their spots at the top of draws at the USTA Boys 18s and 16s National Championships this year. After both the top seeds took doubles titles on Saturday, No. 1 boys 18s seed Zachary Svajda won his second consecutive title with a 6-1, 6-4, 6-1 victory over No. 3 seed Ben Shelton.
The Kalamazoo crowds, hungry for blueberries and cream and more junior tennis after the tournament was canceled last year due to the pandemic, did their best to encourage the underdogs on a partly cloudy and mild afternoon on the campus of Kalamazoo College.
In addition to the local crowd, Shelton had a family cheering section from Indianapolis and Detroit, along with his father Bryan, head coach at the University of Florida. But there was not much they could do to help the Gator sophomore, with Svajda playing at his best, which as he proved in 2019, was plenty good enough.
"I tried to stay focused the whole match, because sometimes I can space out," said Svajda, who turns 19 in November. "Thankfully for this whole tournament, I didn't, and I was pretty solid overall."
Svajda did not lose his concentration, but he did encounter some adversity when Shelton found his game midway through the second set. After trailing 3-1 in the second Shelton put together a string of 11 straight points, breaking Svajda at love and holding at love for 4-all. He then had two break points in Svajda's next service game, but Svajda fought both off, and the opportunity was gone. Shelton had a game point for 5-all but he double faulted three points later and Svajda held easily to take a two-set to none lead in the best of five match.
"I made a pretty good run in the second set, but I played a few big points poorly," said Shelton, who came into Kalamazoo having won the singles and doubles titles at a $25,000 USTA men's Pro Circuit event in Champaign Illinois. "And then there were some of those points where I felt I played a pretty solid point and he kept coming up with stuff, kept making it tough. I played too loose at some moments, didn't play big enough at some moments, so it's just balance I didn't really find today."
Svajda wasn't ready to concede that second set.
"Maybe when I was younger, I would think, ok, get the next set," Svajda said of the prospect of dropping serve for a second straight time. "But as I'm getting more experience, getting older, just playing more, I know it can be any score and I can always come back from it. And he was playing well, hitting some good shots."
Shelton admitted that once he dropped the second set, he struggled to see a path to victory.
"This is my first three out of five match, so I'm not too upset," said Shelton, who will go back to playing best of three in the men's qualifying draw at the US Open with the wild card he receives as the Kalamazoo 18s finalist. "It's a struggle, being down two sets to love and looking at that mountain you have to climb. I did my best to keep fighting, stay in the match, but on the big moments, he came up huge, on break points he came up with winners and applied a lot of pressure, so I've got to give a lot of credit to him today."
Svajda showed how relentless a competitor he can be in the fourth game of the third set. Already up two breaks, Svajda fought off four break points to shut the door on Shelton, who held serve in the next game, but dropped serve for a third time in the set to end the match.
Svajda will now prepare to compete in the main draw of the US Open for the second time, having lost to Paolo Lorenzi of Italy 3-6 6-7(5) 6-4 7-6(4) 6- 2in the first round in 2019.
"I saw I could be with those guys when I was 16, so now two years of training, getting better, getting stronger, I think I can do well if I play my right game, win some matches," said the San Diego resident, who works with the USTA's David Nainkin in Carson and travels with coach Chase Custer. Although he looked impenetrable throughout the week, never losing more than four games in a set, Svajda wants to keep improving.
"I feel like I'm solid all around, but there's definitely some weaknesses in my game," said Svajda, who did miss several volleys when Shelton brought him into the net. "But thankfully, I played pretty well this week."
Svajda will always have one Kalamazoo record to look back on, as he won the 18s title in his Kalamazoo debut in 2019, never having played 16s, and won the title this year in his second attempt to become the only two-time 18s champion in the Open era to go undefeated in Kalamazoo. The others--Phillip King, Paul Goldstein, Donald Young and Jack Sock--all lost a singles match at some previous appearance in Kalamazoo.
Source: Colette Lewis (Zoo Tennis)